All companies required to file financial statements with ACRA are required to file financial statements in XBRL since November 2007. We will take a look below at the revised requirements for the filing of FS in the year 2020.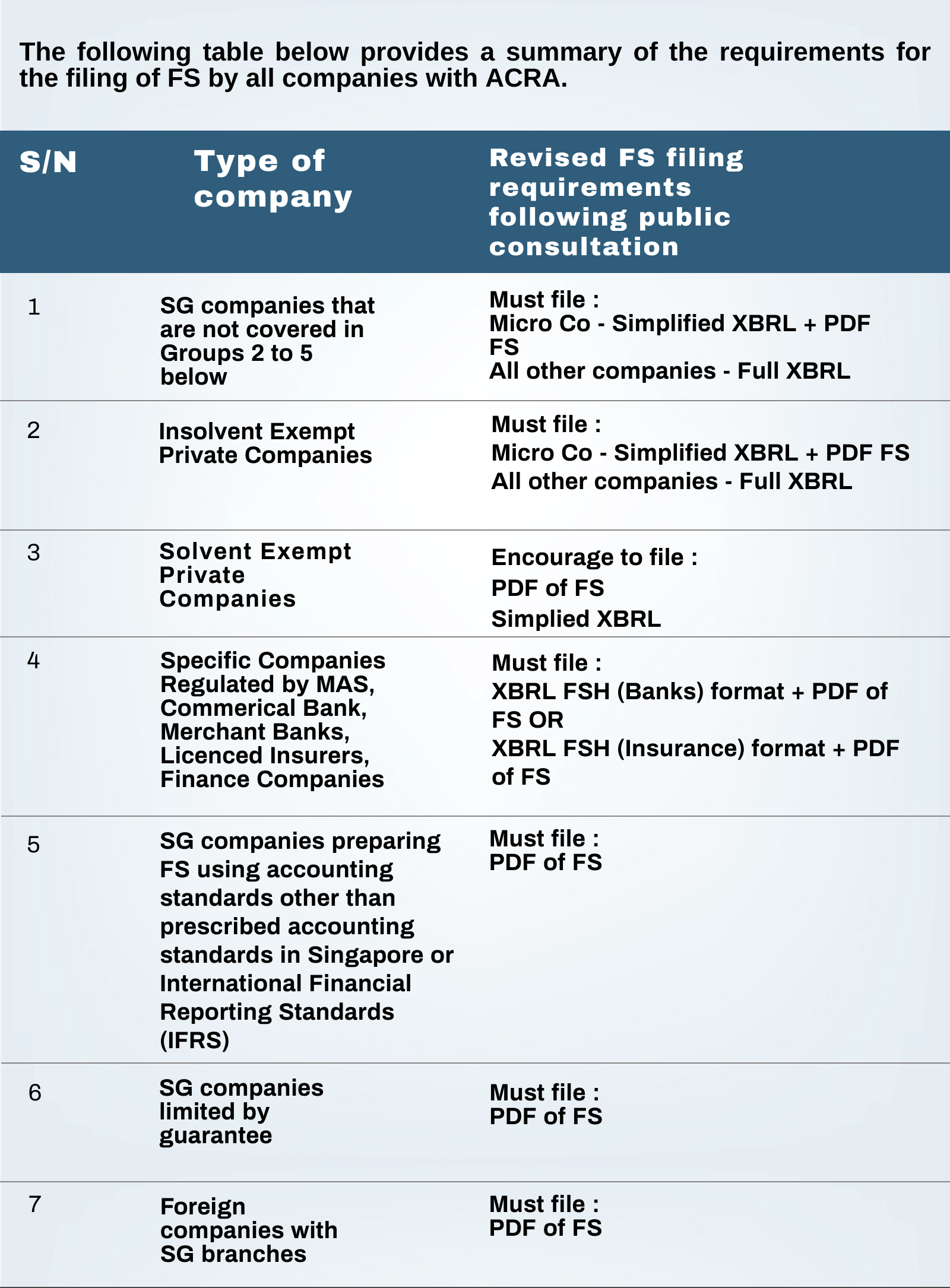 Please take notice XBRL FSH (General) is no longer eligible under the requirements for XBRL filing.
1. The type of company excludes:
Dormant relevant companies which are exempted from preparing and filing FS; and
Gazetted (i.e. a private company that is wholly owned by the Government, which the Minister, in the national interest, declares by notification in the Gazette to be an exempt private company) and de-gazetted companies.
2. For clarity, these refer to:
Commercial banks (i.e. full banks, wholesale banks or offshore banks) licensed under and governed by the Banking Act (Cap. 19);
Merchant banks approved under the MAS Act and their operations are governed by the Merchant Bank Directives;
Finance companies licensed under and governed by the Finance Companies Act (Cap. 108); and
Licensed insurance companies approved under section 8 of the Insurance Act (Cap. 142).
Definition of "micro" companies
A company is "micro" when both its revenue and total assets in the FS required to be prepared by the law are S$500,000 and below. When the company is a parent, its revenue and total assets should be assessed based on consolidated level figures, unless it is exempted by the accounting standards from preparing consolidated FS.
Where the FS are presented in foreign currency, please translate to Singapore Dollars (SGD) to check against the threshold for Simplified XBRL of S$500,000. For revenue, please use average rates over the financial year and for total assets, please use closing rate as of financial year-end.
Definition of "publicly accountable companies"
Publicly accountable companies are:
Companies that are listed / in the process of issuing debt or equity instruments for trading on a securities exchange in Singapore;
Companies the securities of which are listed on a securities exchange outside Singapore;
One of the following types of financial institutions as listed in ACRA
For more information on the revised requirements for FS filing in 2020, visit www.acra.gov.sg. Also if you would like assistance in filing XBRL for your company, reach out to us at ask@ebos-sg.com or call +65 9695 4688