The LEADING
Digital Practice
For
Startup & Entrepreuers

Online Company Registration
Setting up your Company is easy: we manage the formation online and guide you every step of the way without you stepping into Singapore
Digital Corporate Secretarial
All companies in Singapore are required by the Companies Act, to appoint a company secretary within 6 months.

Compilation Report & Tax Report
Minimise your tax liability and reduce the risk for non compliance with proper Unaudited Report for submission to ACRA and IRAS.
Cloud Accountant Advisors
PSG Grant Vendor – Recognised by 4 IRAS compliant Cloud Accounting Apps means that we are there are every stage of your business. 
Customised financial processes and cloud technology to deliver value-added output across your accounting, finance, and operation.
Your organisation needs more from an Accountant. As businesses moves faster and faster, and your customers are demanding more from the organisation. They want more speed, better quality, the best experience, and full transparency. Likewise, you, your bankers and investors demand a total seamless solution.
EBOS is one of the few cloud accountants that has been awarded as the certified advisor to 4 Cloud Accounting softwares, Dashbod, Enterpryze, Financio, and Xero. With EBOS Cloud Accounting, Cloud Corporate Secretary, Cloud ERP, Cloud HR, Cloud Inventory and Cloud CRM, you can tie together and incorporate comprehensive transaction data to deliver greater efficiency, accuracy, and control every step of the way, from source to pay.
– Ensure business cost control.
– Guide employees in maintaining optimal Cash-Flow.
– Effectively and efficiently manage cost accounting and payments.
What's more, when you choose EBOS Cloud Accountants, you can take advantage of Intellinz, B2B marketplace to increase your SEO and marketability to prospect investors that is verifiable through our proprietary KYC Due Diligence Business Intelligence App. This enables you to effectively and efficiently manage compliance, accounting and marketing, plus do in-depth analysis by equipping and assisting local and international companies to fulfill regulatory compliance requirements by governing authorities like ACRA & IRAS.
Cloud Accountant & Cloud Corporate Secretary with Human Touch
As an EBOS customer, you can be 100% paperless with real human beings assisting you on your enquires and not robots. We believe that business relationship requires attentive human interaction to guide you through every stage of your business with care, dedication and personal touch.
For more details, please check out founder and EBOS team at Channel News Asia, Radio, Accounting, and Finance Show (Singapore), Tech Hour, and Radio Station on our Facebook. 
Help you grow your business
At EBOS, we focus on what we do best to help you achieve your business goal. Let's get in touch and allow us to assist you further
Our

Awards

& Accomplishments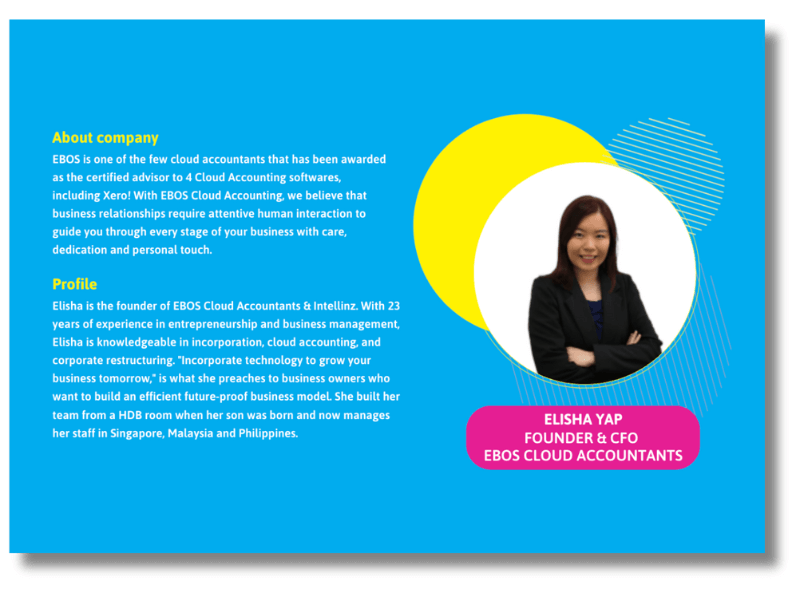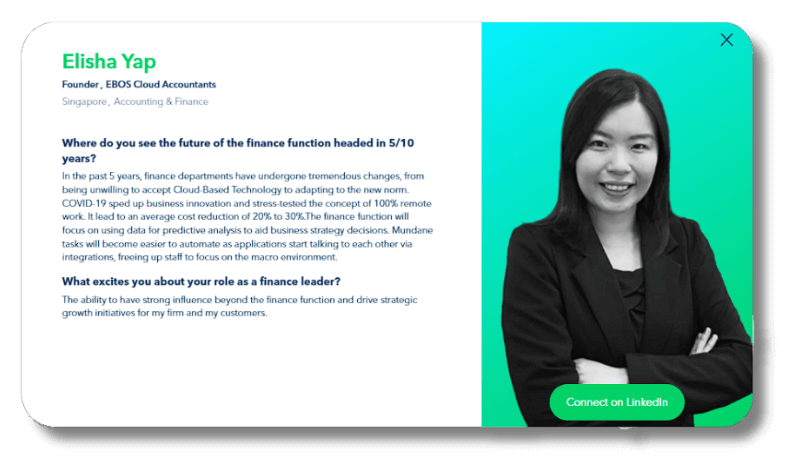 What our

"happy Clients"

Say
EBOS is very efficient and prompt in serving our queries to the unfamiliar account documentations required for submission. Keep up the good work. Nice working with the team
EBOS is very prompt with their responses. Previously I had registered my business using the wrong structure and they gave advice on what's better and how to resolve it professionally. 
EBOS was extremely helpful during our filing. They were clear with the accounting standards and very efficient and professional throughout the process. We are very grateful to be able to work with EBOS and would certainly recommend to start ups and SMEs.
Our company engage EBOS to do up our company account. They are able to provide good advise on the Do's and Don'ts, very professional. They give us peace of mind to let them handle our company account. A very professional & efficient team!
Customise
your package
based on the needs of your business