Singapore SME 500 Award 2020 – 2021 | Recognizing & Ranking Singapore's Top 500 SMEs.
The Singapore SME 500 Award was launched to recognize Singapore's leading Small-Medium Enterprises across major trade and industries that have contributed significantly to Singapore's GDP. Today, the SME 500 Award continues to recognize Singapore SMEs that have been developed and managed effectively, honouring leading businesses that have proven its success within the related business industries and sectors.
The SME 500 Award serves as a prestige recognition for your business and team players that have contributed greatly to each organization. Through nominations and recommendations of SMEs, the SME 500 Award committee assess and qualifies credible SMEs to be awarded the SME 500.
Widely known in the business scene, achieving the remarkable SME 500 Award is an endorsement towards the business's success and is certainly a significant milestone towards the business's position within the industry. The Award also serves as a yardstick where SMEs benchmark their business position and competitiveness against their competitors.
Yearly, the SME 500 provides a comprehensive ranking system of all award winners. The ranking system is derived based on SME's performance and market position, allowing SMEs to understand each position within the Singapore SME sector. The SME 500 Award recognizes your business qualities and standards, acting as a benchmark of your brand against local and global competitors.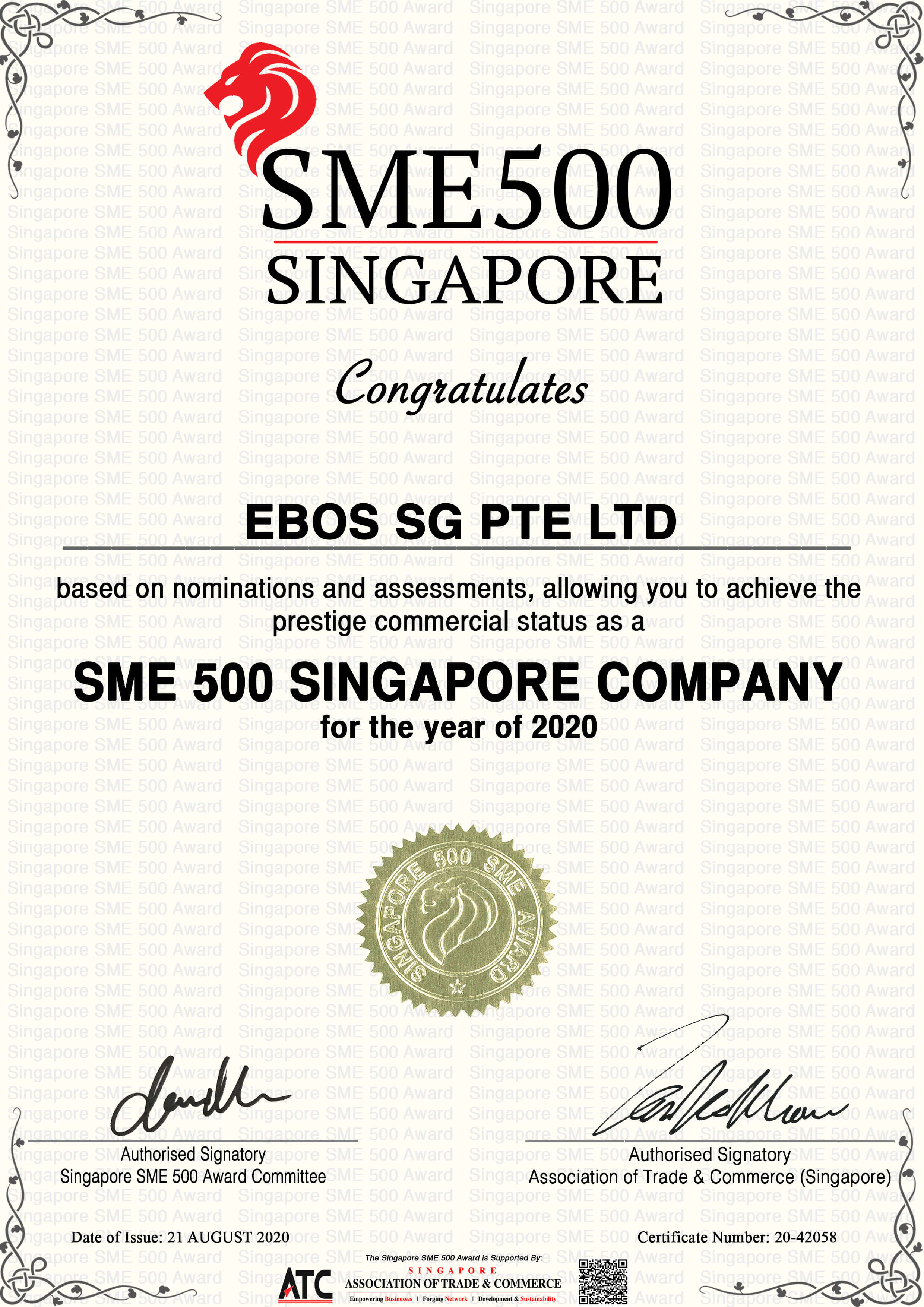 EBOS SG Voted as 2020/2021 top 500 SMEs in Singapore By ATC
EBOS SG is proud to announce that we have been voted as one of the top 500 most enterprising and privately held companies of 2020/2021 that have made significant contributions to Singapore's GDP by the
Association of Trade & Commerce – Singapore
.
This award is a testament to our constant commitment and spirited passion for continuous growth, development and furthering our successes together as a team!
Thank you to everyone who supported us and we will continue to strive and grow with you together!